How to complete a luxury facial.
What are Facials? 
Facials use techniques rather than complex and expensive products but achieve fabulous results.
This facial will improve the texture of the skin, increase the skin's circulation, and encourage cellular activity and rejuvenation. It will both stimulate and soothe the nerve endings of the skin. It is also a wonderful way to relax and promote the sense of well-being. 
What the treatment includes:
 A consultation is completed prior to the start of a treatment to ascertain the most suitable products for the client's skin type. The skin is then deep cleansed before a suitable massage medium is applied, this may be oil, cream or a specially blended essential oil if you are qualified in pre-blended aromatherapy. 
The massage will include:  
Pressure points to clear energy channels and to stimulate the muscles and nerve endings  Massage to generally improve the circulation and texture of the skin  Lymphatic drainage to assist the lymphatic systems in removing waste and encourage healing 
On completion of the massage the skin is toned and moisturised. 
The treatment will take approximately 45 minutes without the application of a mask or 60 minutes with a mask.
 To treat the skin effectively you will need to be able to diagnose the client's skin type and use suitable products.
Skin Types
It is important to understand the different skin types to make sure you use the correct product for your client.  
Many things can affect the skin:
Age  

Hormones  

Weather  

Central heating & Air conditioning 

Wrong products used  

Prolonged illness  

Medication or drugs  

Poor nutrition  

Smoking and alcohol intake  

Allergies  

Stress  

Genetic inheritance 

 Ethnicity
There are 5 different skin types, most women know what type of skin they have. 
Oily Skin
What is oily skin?
Oily skin is caused by too much sebum. The sebaceous glands create sebum, an oily substance that helps keep skin from drying out. 
Description of oily skin.
Shiny appearance

Pores will be larger 

Will have more blackheads, white heads and suffer from acne.

More common with paler skin.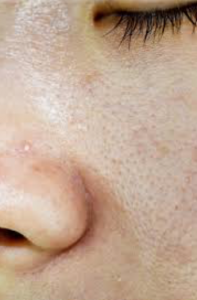 Dry Skin
What is dry skin?
Dry skin is caused by a lack of sebum. The skin losses water by sweating. You might find people with dry skin on the face suffer with dry patches on other areas of the body.
Description of dry skin.
Feels tight after washing

Lacking oil and moisture

Flakiness, itchy 

Premature lines 

Small pores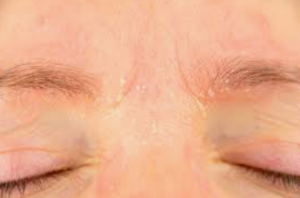 Combination Skin
What is combination skin?
Combination skin is both dry and oily in different areas, is common. This skin concern is typically characterised by an oily T-zone on the forehead, nose and chin (prone to enlarged pores and pimples), coupled with a dry cheek area.
Description of combination skin.
Greasy T Zone

Dry Cheeks

Mixture of two skin types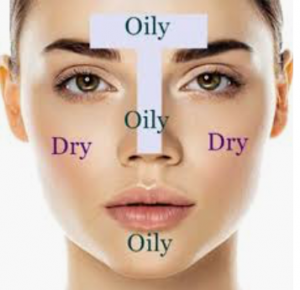 Normal Skin
What is normal skin?
Normal Skin means the sebum is well balanced. It is not shiny or dry.
Description of Normal skin.
Skin looks clear and healthy

Good even colour

Smooth to touch

Good elasticity 

No visible pores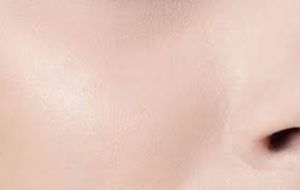 Mature Skin
What is mature skin?
The main characteristics of mature skin that disappear with age are flexibility and elasticity. Part of the skin's consistency gradually decreases, it becomes more fragile, finer, more uneven and the dreaded wrinkles appear, which are accompanied by pronounced expression lines.
Description of Mature skin.
Pigmentation spots can be present 

Loss of elasticity 

Sagging muscle tone 

Sebaceous secretion slows down (can look dry) 

Wrinkles and lines are more visible
Consultation
Before you start any treatment you need to have a consultation with your client. Checking for contraindications and discussing which look they would like you to achieve for them.   
A consultation is a one-on-one talk with your client. Here you will find out very important and confidential information that will help you to advise and give clients the best treatment.
 Always introduce yourself to your client. The consultation is often carried out in the room in which you are working and should be carried out before the treatment  in case there is any reason that they cannot be treated. 
There are three skills required as part of the consultation: 
Observation – what can you observe about the client? Are they nervous, extroverted, holding their body in such a way that might give indications for treatment.

Verbal Questioning – gain the information required. 

Physical Examination – what can you physically see and feel on the client? 
This third part is only carried out once you have assessed that, so far, the client is suitable for treatment. Approximately 5-10 minutes should be allocated to carry out the initial consultation. Ideally you should be sitting face to face or next to your client to create an open atmosphere. Avoid barriers such as a couch or a table coming between you.
 Holistic treatments treat the individual as a whole, taking into consideration general well-being, i.e. health, emotional, physical and mental states. You need to explain carefully to the client why you are carrying out a consultation. Use open questions to tactfully encourage the client to give you information that you need rather than interrogating them and asking lots of direct and often personal questions. Use the record card as a prompt rather than a list to tick off.
 Record Keeping 
Records must be maintained for a number of reasons: 
They provide contact details in case you have to alter or cancel an appointment. 

So that you can monitor the client's progression. 

To track any aftercare advice that you have given the client.

As a backup in case the client has an adverse reaction to a treatment. 

Another therapist.
Golden rule: if you are in any doubt about the client's suitability for a treatment, do not proceed.
Cleansing
Why is it important to cleanse the skin?
It is important to cleanse your skin every night to remove make-up, impurities, dead skin cells, and excess oil. But a morning cleansing is also beneficial, as it removes any toxins the skin eliminates during the night and refreshes the skin, preparing it for make-up application.
For the removal of eye make-up, especially waterproof mascara, there are particular products specifically formulated for the eye area. However, some gentle facial cleansers can effectively remove all make-up, eye, and facial, as well as cleanse the skin. For the general or "all-in-one" cleansers, be sure that they are fragrance- and color-free to avoid irritating the eye area. If you do not need to remove eye make-up, select a skin specific cleanser. For instance, use an oil free cleanser for oily skin, and a milky or creamy cleanser for drier skin types.
The original use of a toner is to return the skin's pH back to normal. It is also useful to complete the cleansing process, as it will remove any last traces of make-up and cleanser residue. Some toners have very beneficial ingredients that help certain skin conditions. 
For Sensitive Skin
Selecting the best facial cleanser for sensitive skin and post-procedure or compromised skin can be challenging, as cleanser formulations often contain certain surfactants that may threaten the integrity of the skin and exacerbate conditions. When looking for an effective sensitive skin facial cleanser, it is best to use lightweight formulations free of common skin irritants such as alcohol, soaps, synthetic fragrances, and dyes. Look for a facial cleanser formulated with hydrating ingredients such as allantoin, sorbitol, and glycerin to help maintain moisture levels and promote a healthy skin barrier.
For Dry Skin
Caused by a variety of factors including lipid depletion, dry air, harsh soaps, and in-clinic procedures, dry skin can often feel tight and uncomfortable. As a result, it is especially important to look for an alcohol- and soap- free facial cleanser. When selecting the best facial cleanser for dry skin, opt for cream or lotion formulas infused with humectants and hydrating ingredients such as allantoin, glycerin, and sorbitol to help increase water content in skin and promote a healthy skin barrier. Ideal for dry skin, Gentle Cleanser features a creamy, non-foaming formula that removes impurities and long-wear makeup while effectively moisturising and softening skin.
For Oily Skin
Oily skin has a unique set of needs, as many traditional oil-fighting ingredients have the potential to dry out skin. When this happens, skin produces excess oil, which may lead to clogged pores and breakouts. As a result, it is best to avoid alcohol-based facial cleansers that can contribute to dryness or irritation. Instead, opt for oil-free gel based cleansers formulated with acids such as glycolic, salicylic, and sulfonic acid to deliver targeted exfoliation. Promoting cell turnover will help prevent clogged pores and blemishes from forming. The best facial cleanser for oily skin will also contain natural humectants such as glycerin to ensure skin maintains adequate hydration levels to prevent skin from producing excess oil.
How often should you cleanse?
No matter your skin type, you want to wash your face at least once a day, ideally in the evening to remove any dirt, makeup, oil, and grime that's built up on your skin throughout the day.
Why should we not wash the face in the shower?
The main reason you shouldn't wash your face in the shower is that people typically use much hotter water when showering, according to Benjamin Garden, MD, a dermatologist practicing in Chicago. Hot water dissolves and washes away the natural oils on the skin.
Cleansing routine 
Cleanse each eye separately with small circular movements and remove make-up with damp cotton wool 

Cleanse lip area with a figure of eight movement supporting the corner of the mouth, remove with damp cotton wool 

Apply cleanser to the neck and face area 

Starting at the neck, use upward strokes on the neck6 to the right 6 to the left 

Alternate stroking along the jawline x 6 

Alternate stroking over the chin using the thumbs x 6 

Stroking under the nose and over the upper lip x 6 

Circular movements from the corner of the mouth over the entire cheek area x 3

Circular movements at the crease of the nose 

Stroking up and down the length of the nose 

Eye circles x 6 

Stroking of the forehead 

Cross friction over the forehead 

Large circular movements over the entire cheek area x 3 

Finish with pressure at the temples Remove cleanser with damp cotton wool and repeat the routine.
Toning
Why is it important to tone the skin?
Toners are not necessary, but they can be a great adjunct to a skincare regimen for those that need help with oily skin or markedly clogged pores. Toning should be considered an important  part of the cleansing process. A good toner will remove any remaining bits of oil, dirt and debris left behind by the cleanser. More importantly, toner will help soothe, nourish and hydrate the skin while restoring its delicate pH balance. Some cleansers do not require you to tone afterwards, please always check with the brand you are using. 
How often should you tone?
We advise you to  use toner after washing your face, and before using serum or moisturizer. Toners can be used twice daily after cleansing, as long as your skin can tolerate the formulation. Use a toner morning and night. But if your skin gets dry or irritated easily, try once a day or every other day.
What is the difference between Toner and cleanser?
Cleanser is to cleanse or clean the face, in other words we call a cleanser as FACEWASH. They clean off the dirt and make-up and oils and bacteria and anything else that shouldn't be there off of your face.
Toner is the next step after cleansing your face clean, a toner removes any traces of dirt, make-up, oils, bacteria etc. remaining on your face after you've used a cleanser. Toner not only cleans your face but also it mainly balances the pH of your skin, and helps control acne and dry skin.
Procedure for toning 
Place some toner onto damp cotton wool and follow the same sequence as for cleansing. 
Not all cleansers require the use of toner; however it does give the skin a fresh feeling after cleansing. 
Blot the skin dry using a tissue.
The massage sequence 
 Facials massage comprises three parts: 
Lymphatic drainage and pressure points 

Massage face 

Pressure points, drainage and massage to the scalp  
Drainage movements should be light, slow and precise draining towards the nearest lymph nodes  Pressure points treatment should be slow and precise. The thumb, finger or fingers are used to apply pressure to a specified point. To apply this technique correctly, pressure should be applied as you breathe out. Working in time with your breathing will help regulate your movements. This routine uses generalized pressure points but more specific ones can be incorporated or appropriate. 
Lymphatic drainage and pressure points to the face, neck (10 minutes) – 
To use the Diagram, All movements are repeated 3 times Follow all pressure points with a drainage move.
Place hands on the client.

Place fingers next to each other and apply pressure points from eyebrows into hairline x 3 

Slide fingers along skin and up forehead along the same line x 3 

Place fingers to sides of the nose and work from nose, under the cheek bone out to the ear 

Place the fingers under the jaw line and work across the jawbone up to the ear 

Place fingers at the base of the neck and work up the neck to the jaw bone, and repeat at the back of the neck 

Place the thumbs in the middle of the forehead and slide out as far as the temples 

From the temples pressure points down sides of cheek 

Using thumb pressure stroke down the sides of nose and under eye socket
 10.Place thumbs on bridge of nose and slide down the nose 
Place your finger on point 11 and hold of 10 seconds 

Place your finger on point 12 and hold it for 10 seconds 

Place your finger on point 13 and hold it for 10 seconds 

Follow under the cheekbone and work out to the ear 

Apply pressure working along each eyebrow using a finger and thumb x 3 

Using the thumb and finger slide along the eyebrow to drain x 3 

Place your finger on point 12 and hold for 10 seconds 
Massage to neckline and face (15 minutes) 

Apply massage medium to face, neck and shoulder 

Firmly press on the chest and begin to begin massage 

Effleurage round deltoids and trapezius x 6 

Petrissage deltoids 

Effleurage round deltoids and trapezius x 6 

Petrissage trapezius 

Effleurage round deltoids and trapezius x 6 

Turn head to side and effleurage neck x 6 

Turn head to other side and effleurage neck x 6 

Petrissage trapezius 

Effleurage round deltoids and trapezius x 6 

Effleurage face X 6 

Alternate stroking over mandible X 6 
Whipping of mandible 

Tapotement of mandible

Cheek lift over zygomatic bone 

Petrissage chin, upper lip and cheeks X 4 

Stroking of nose – cross over X 6 

Eye circling x 6 

Stroking of forehead 

Cross friction of forehead 

Repeat 12-21 

Effleurage round deltoids and trapezius x 6 

Facial prayer x 4 

Fan x 6 

Eye circling and eyebrow lift x 4 

Effleurage face X 6 

Effleurage round deltoids and trapezius x 6 

Facial prayer x 4 Finish at temples with slight pressure 
Pressure points, drainage and massage to the scalp (5 minutes)

Slide fingers to the ears. Gently massage earlobes with fingertips working up and around the ear cartilage 

From top of the ear work the fingers on to the scalp. Using pressure points movements work over the scalp, pumping to stimulate the lymph nodes. 

Shampooing. Massage the scalp – cover as much of the scalp as possible. To finish, run the fingers through the hair using a slow stroking action. Should the client not have any hair, place the hands on the head and hold.
Types of Facial Masks
Clay and charcoal masks
Clay masks and charcoal masks are suitable for normal or oily skin to combination skin or shiny t-zones. This is because both clay and charcoal absorb excess oil from the skin's surface. Charcoal also has the unique ability to gently draw out dirt from congested pores. A well formulated mask will leave skin shine-free, but not dry or tight.
Sleep masks
A sleep mask is usually a hydrating mask that you leave on overnight to provide skin with extra nourishment. Leaving the mask on for a longer time gives the ingredients more time to work. Sleep mask's often have a lighter texture so they won't make your pillowcase greasy. Use them as the last step in your evening routine and depending on how dry your skin is, it could be used in place of a night cream. Good for dry skin.
Brightening Masks
Brightening masks are ideal for those with dry, dull skin and anyone suffering from pigmentation and uneven skin tone. A good mask in this category should contain powerful brightening ingredients like arbutin, vitamin C, bearberry extract and niacinamide. These ingredients improve uneven skin tone and leave skin glowing.
Sheet Masks
Sheet masks are usually made from some kind of paper or cotton that is saturated with effective ingredients. There are lots of different sheet masks to suit different skin types depending on the ingredients they contain. You leave the mask on your face for a while so that the ingredients can sink into skin. A sheet mask is fun to use but doesn't necessarily provide more benefit than traditional masks. For all skin types
Bubble masks
Bubble masks usually have a gel texture that transforms into a bubbling foam once applied to the face. They are trendy and it looks fun, but the foaming effect has no benefit for skin and the ingredients that make the mask foam can irritate skin. For all skin types
Peel off Masks
A good peel off mask gently removes a thin layer of dead skin cells and surface dirt from the pores, which leaves skin feeling smooth. Peel off masks don't have the ability to penetrate pores and 'pull' blackheads and dirt out of them. To lessen blackheads and unclog pores it's best to use a BHA exfoliant. 
Peel-off masks tighten the skin temporarily and some stimulate the blood supply. They are good for mature and dry skin.
Thermal masks
Thermal masks are applied to the face and gradually heat up. They warm surface tissues and encourage the skin to breathe. This mask heats up on contact with water to open pores and leave your skin feeling refreshed. For all skin types
Cream masks
Cream masks contain emollient properties that soften skin. They are ideal for people with normal to dry skin who want to rejuvenate their facial skin by adding moisture. 
How to use face masks
Always read and follow instructions on the product label.

Apply the mask evenly, with clean fingers or a mask brush.

Time the mask according to the product's instructions.
Follow the product's instructions to remove the facial mask. Some masks are removed by rinsing with water, while others are removed by wiping gently with damp, warm cotton pads.
Exfoliating 
Why is it important to exfoliate the skin?
Exfoliation refers to the removal of the dead skin cells on the skin's surface. Exfoliation can be performed mechanically, by using abrasive scrubs on the skin or chemically, by using scrubs that contain special kinds of acids that dissolve and remove the dead skin cells without scrubbing.
As we age, the process of cell regeneration slows down. This means that the body is slower to shed skin cells and generate new ones. When old skin cells start to pile up on the surface of the skin, it can leave skin looking dull, rough, and dry. Furthermore, the build-up of dead skin cells can result in excess oil and clogged pores, leading to blemishes and acne.
Proper exfoliation removes the barrier of dead skin cells clogging the skin and uncovers fresh new cells below. This opens the way for moisturizing products to penetrate more deeply into the skin, which makes them more effective. 
How often should you exfoliate the skin?
It is recommended to exfoliate once a week. Do not exfoliate every day it can strip the skin of its natural oils, which can cause breakouts.
Exfoliating Products
Exfoliating brush.

This is usually a bristle brush used on the face or body to remove layers of dead skin cells. Some are designed for dry brushing. Others can be used with your facial cleanser or body wash.

Exfoliation sponge

. These are a gentler way to exfoliate skin. You can lather an exfoliating sponge with warm water, soap, or body wash in the shower.

Exfoliating glove

. If you find brushes or sponges difficult to grip, you can use a glove. Lather it with soap or body wash in the shower. They can be effective for large areas such as legs or arms.

Exfoliating scrub.

This can be applied directly to the skin using a gentle, circular motion. You can wash your skin with warm water after applying the scrub.
Dry skin
Exfoliation is important for dry or flaky skin. Avoid mechanical exfoliation on dry skin, because the process is drying.
Sensitive skin
Avoid scrubbing or using mechanical methods of exfoliation. These will irritate your skin further and can lead to redness.
Use a mild chemical exfoliator and apply with a gentle washcloth. 
Oily skin
Oily or thicker skin can benefit from manual exfoliation and brushing. Oily skin may have an extra layer of buildup on the surface that manual exfoliation can remove. Gently use an exfoliator or scrub in circular motions for best results.
Normal skin
If your skin doesn't have any complications, you can choose any method of exfoliation. Manual and chemical exfoliation are both safe for this skin type. You may need to experiment to find out which method works best for your skin.
Combination skin
Combination skin may require a mix of mechanical and chemical exfoliation. Never use both on the same day as it can irritate skin. If your skin feels dry after exfoliation, use a moisturizer immediately after.
Facial Steaming
Why offer steaming?
It's cleansing. Steam opens up your pores and helps loosen any buildup of dirt for a deeper cleanse. Opening up your pores also softens blackheads, making them easier to remove.
It promotes circulation. The combination of warm steam and an increase in perspiration dilates your blood vessels and increases circulation. This boost of blood flow nourishes your skin and delivers oxygen. The result is a natural, healthy glow.
It releases acne-causing bacteria and cells. Opening up your pores allows the release of dead skin cells, bacteria, and other impurities that clog the pores and contribute to acne.
It releases trapped sebum. This naturally occurring oil is produced by your sebaceous glands to lubricate your skin and hair. When sebum gets trapped beneath your skin's surface, it creates a breeding ground for bacteria and causes acne and blackheads.
It's hydrating. Steam hydrates the skin by helping to increase oil production, naturally moisturizing the face.
It helps your skin better absorb skin care products. Steam increases

skin's permeability, enabling it to better absorb topicals. This means you get more bang for your buck from skin care products applied after a steam.
It promotes collagen and elastin. The increased blood flow experienced during a steam facial promotes collagen and elastin production. This results in firmer, younger-looking skin.
It's soothing. The feeling of warm steam on your face is relaxing. Add some soothing scents using herbs or essential oils for aromatherapy to take your steam sesh to a whole other level of calm!
It helps with sinus congestion. Steam can help relieve sinus congestion and headaches that often accompany it. Adding certain essential oils to your steam can boost the effect.
Different techniques
To steam over a bowl or sink of hot water
Grab a big towel and choose your spot. Comfort is key, so if you're doing this over a sink you'll want to use a chair or stool that offers the right height. Otherwise, a bowl on a table is your best bet.

Secure your hair so that it's off your face and cleanse using a gentle exfoliating cleanser. Don't forget to cleanse your neck, too!

Bring 4 to 6 cups of water to a boil in a kettle or pot, depending on the size of the sink or bowl.

Add a handful of herbs once the water begins to boil and stir.

Reduce the heat, cover, and simmer for 2 or 3 minutes. Carefully pour into the sink or bowl. If you're using essential oils, this is the time to add a few drops to the water.

Have a seat, drape your towel over your head and the pot, and hold your face 6 inches above the water.

Raise or lower your head for more or less heat and lift a corner of the towel to cool off if needed.

Steam your face for 5 to 10 minutes.
To steam with warm towels
Get a hand towel and turn on the hot water tap. When hot, fill your sink or bowl with enough hot water to soak your towel. Add your herbs.

Secure your hair so that it's off your face and cleanse your face and neck using a gentle exfoliating cleanser.

Soak your towel in the hot water and wring it out so that the towel is damp.

Lean back in a comfy chair or lie down. Place the towel on your face, holding each corner up so they meet in the center of your forehead.

Adjust the towel so that it covers your entire face, including the eyes, leaving just your nose peeking through. 

Relax for 5 minutes.
To steam with a home facial steamer
Read your facial steamer's instructions, filling it up as directed. Place it on a table near an outlet so you can plug it in. It will take a few minutes to begin emitting steam.

Secure your hair so that it's off your face and wash your face using a gentle exfoliating cleanser.

Have a seat, get comfortable, and set your face inside the cone attachment, staying 5 to 10 inches away as it says to do in your steamer's instruction booklet.

Steam for 2 or 3 minutes at a time with a 1-minute break in between to see how your skin is handling the steam.
Facial steamers offer a more powerful steam than the other methods.
How to add herbs and oils
Adding dried herbs and oils to your steam may offer extra benefits. Certain herbs are thought to be more beneficial for different skin types. Some essential oils and herbs are known to have a calming or invigorating effect, depending on what you're after.
Herbs
Chamomile, chamomile can help with skin inflammation and dermatitis, making it great for all skin types, including sensitive skin.

Rosemary. This fragrant herb may be a good option for those with oily skin.
Oils
Lavender. This herb is great for dry

skin

or eczema, and it has relaxing aromatherapy benefits.

Geranium. This oil derived from the geranium flower is a natural astringent that tightens and tones the skin.

Eucalyptus. If you deal with acne or are congested, this is a great option.

Orange. Along with having uplifting aromatherapy properties, orange may also help with blocked pores and a dull complexion.
How hot, how long, and how often?
A steam burn is more damaging than a burn from boiling water, so you need to be especially careful when steaming your face.
To lower your risk of burns, avoid putting your face too close to the steam. Increase the distance as needed for you to be comfortable. Water should be warm, not hot, if you're using the towel method.
Steam your face once a week for the best results. Limit each steam session to around 10 minutes to avoid irritating your skin.
Moisturising
Moisturising ensures that the skin is smooth and supple. The skin on the face gets dry easily because of the weather. Moisturizing forms a film over the skin and helps in containing the natural moisture of the skin. They can come in forms of creams or milk. It is recommended to use a day cream in the mornings and a night cream in the evening. Night creams are an absorbent intensive rich cream which restores the skin's well-being without leaving the skin feeling oily. 
Eye creams
This is used around the delicate eye area. There are many different benefits of the cream for example, anti-wrinkle, hydrating, reducing puffiness, soothing and refreshing. It is recommended to use day and evening
What Moisturiser to Use
Regularly using lotion and moisturizer should be a part of any good skin care regimen, but some are better than others. Choose a lotion with plenty of vitamins (see below) with an SPF of 15 to protect your skin during the day. Also use lotions that are oil free, non-comedogenic (won't clog pores), allergy and dermatologist tested.
Vitamin A and Vitamin B5 increase firmness and build moisture levels.

Anti-Oxidant Vitamins C and E help protect new skin and fight skin damage.

PABA-Free SPF 15 sunscreens help prevent premature lines and wrinkles.
When to Moisturize
The most important times to use moisturizer are after a bath, shave or exfoliation. For some, this might be twice a day. Moisturizing after a shower is very important because hot water strips all the moisture and oils out of your skin, leaving it parched and dry. While hot water may be relaxing, it also wreaks havoc on your skin. Never skip the moisturizer.
Moisturizing Helps Skin Stay Young
The skin on your face, ears, neck and chest are very sensitive to environmental changes and are the most frequent areas of the body known to develop skin cancer. These areas of skin also shed cells more rapidly than other parts of the body and therefore need moisture to repair itself, which allows for younger skin cells to rise to the surface. Also, the massaging effect that is used when applying lotion helps stimulate blood circulation and new cell generation.
Moisturizing Reduces Skin Problems – Moisturizing everyday can reduce the chance of developing extreme dryness or oiliness. Both extremes are harmful for skin and cause common skin conditions like acne.
Conceals Other Skin Blemishes – Using a daily moisturizer ensures that the skin's blemishes are camouflaged. That is because moisturizing tends to make the skin have a slight sheen, and those with any tint or self-tanner even out different skin tones.
Facial Routine
Clean the eyes

Clean the lips

Cleanse the skin with sensitive cleanser (remember we do not know the skin type). We are cleansing to remove make up and dirt so we can have a better look at the skin.

Analysis the skin to find out the skin type. This will help you choose the correct products.

Cleanse the skin using the correct product for their skin type.

Exfoliate the skin to remove any dead skin cells and helps the skin look refreshed.

Steam the skin to help open the pores ready for the next step.

Extractions – using a extraction tool to remove any comedones.

Tone the skin

Massage the facial area

Apply the mask

Remove the mask

Tone the skin

Moisturise the skin

Apply eye cream
Facial Courses
VTCT Level 2 Facial skincare course