VTCT Level 3 NVQ Diploma in Beauty Therapy General - £1450.00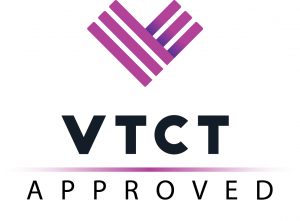 VTCT NVQ Diploma in Level 3 Beauty Therapy General
This is a vocational qualification and includes all the required elements to work effectively as a beauty therapist including, mandatory units covering the following: facial and body electrical, body massage, electrical epilation, monitoring procedures in the salon and contributing to the planning of a promotional event.
 The structure of this qualification provides you with the opportunity to develop the knowledge, understanding and skills required for a career as a beauty therapist.
Throughout this qualification you will develop your knowledge and understanding of relevant anatomy and physiology, health and safety, and client care. You will also develop a range of technical skills in preparing the skin, and applying beauty therapy products and electrical equipment to the skin, using a variety of different techniques. You will also develop interpersonal skills that will assist you to communicate effectively with clients.
| | | |
| --- | --- | --- |
| VTCT Product Code: AB30029 | GLH: 540 | |
| Qualification Number: 500/8860/9 | Units: 7 – 16 | |
| Level: 3 | Minimum Credits: 65 | |
Total Course Fee (VAT incl.)
£1450 Home Study course.
£100 off if you pay by bank transfer.
Complete all the theory at home, attending for 9 days  to complete the practical practice, assessment and theory.
Including Tuition, VTCT course registration fee, test, assessment fee, learning pack.
Other Fees
£0 (None)
Address
Caversham, Reading, Berkshire, RG4 5BY
Free parking or a 20 minute walk from Reading Train Station
Home Study Course
This is ideal for students who work full time and cannot attend the training centre every week.
With our home study course as soon as payment has been made you will receive an email with all the manuals, revision notes and assignments. You will complete all the theory at home in your own time.
Once you have read through the manuals and revision sheets please contact us to get booked in for 9 days practical.
On these 9 practical days you will complete  theory exams and practical on models.
You will need to then practice and complete your assignments before attending an assessment day in front of the IQA. On this day you will have 3 models to complete.
Your certificate will be logged with VTCT which normally takes up to 12 weeks to be posted out to you.
Entry Requirements
To enrol in this course you must already be qualified in either Level 2 General or Level 2 Facial massage and Skincare.
We do offer a package for Level 2 Facial Massage and Skincare and Level 3 Beauty general. Please contact pamperingangelstraining@gmail.com for more information.
Where will the course take me?
This qualification will qualify you for employment as a beauty therapist. You will also be eligible to join a professional association and gain insurance as a beauty therapist. Career opportunities as a beauty therapist exist in a variety of contexts, including:
– Working in commercial beauty salons
– Working in destination and day spas
– Working independently/self-employed/mobile/home-based settings
Whilst this qualification's primary purpose is to prepare you for employment as a beauty therapist, you may choose to develop your skills further by undertaking qualifications in beauty therapy at Level 4, including:
– VTCT Level 4 Diploma in Permanent Hair Removal and Skin Rejuvenation
– VTCT Level 4 Certificate in Laser and Intense Pulsed Light (IPL) Treatments
– VTCT Level 4 Diploma in Advanced Beauty Therapy
– VTCT Level 4 Award in Skin Blemish Removal
– VTCT Level 4 Award in Physiology for Advanced Beauty Therapy
– VTCT Level 4 Diploma in Salon Management
What will I learn?
You will learn:
Facial and Body Electrics which includes, Microdermabrasion, High Frequency, Galvanic, EMS and Microcurrent. 

Full Body Massage

Indian Head Massage

Electrical Epilation

Anatomy and Physiology 
Difference between ABT and VTCT
With a vast array of qualifications and options available to you, choosing the right course for yourself can be very confusing. Here is a little insight into the difference between short courses and NVQs.
Most day/short training courses will be accredited by an awarding body such as Professional Beauty, ABT, BABTAC or The Beauty Guild. This means that the training school has been approved based on their course manuals, training qualifications and liability insurance. These will allow you to learn the skills needed to carry out these treatments. These are suitable for anyone wishing to work for themselves at home or as a mobile therapist. There are a few salons that will employ without NVQs but this can be restrictive.
We would strongly recommend that you check with the awarding bodies that the school is still approved. We have to renew it each year!
NVQ/VRQ 
Most Salons specify that a Beauty therapist needs an NVQ at level 2* (min) to work within a salon environment. NVQ/VRQ qualifications are both nationally and internationally recognised certificates. Both types of qualification are fully recognised for insurance and employment within the Beauty industry.
Both are work related and focus on the practical and employment skills needed for the beauty industry.
VTCT or City & Guilds
Both governing bodies are of equal value in the workplace, however we use VTCT because:
They are a major awarding body in the UK, the market leader and provider of specialist qualifications in beauty therapy, massage and holistic therapy and nail services.

Specialist in this field since 1962
If you complete any of our NVQ courses you will be able to gain valuable work experience in this fast moving industry.
This will give you the skills and knowledge to gain a successful career in the beauty industry. All of our teachers remain active therapists in the subjects they deliver and we are sure we can offer you first class training.
About the practical day
You will need to attend for 9 days practical.
You will be shown the routine by the tutor.  You will then need to complete 6 practicals on each machine.  We will arrange the models for you and you will also be a model for another student depending on contraindications and if  needed.
Theory exams will be sat after the practical has been completed and before your assessment day.
Light lunch and refreshments are provided so you do not need to bring anything with you on your practical days.
Once the practical and assignments have been completed you will be given a date for your practical exam.
Practical Exam day:
You will complete 3 different models in front of the assessor and IQA.
Why choose Pampering Angels?
Our training centres are well-equipped, within easy reach of public transport and regularly inspected by the awarding body (VTCT) which we provide qualifications through; to ensure we are giving you the best service for your money.  All our tutors are experienced, friendly, welcoming and happy to go the extra mile to deliver the very best student experience possible. 
All courses are run as smaller groups than most other providers (no more than 4 students), allowing plenty of opportunity to ask questions or seek further support if required. Our training centres are permanent and exclusive to us and they are always set-up ready to begin your training.
How do I get booked on?
Please click on a date from the calendar and proceed to checkout.
If there is not a suitable date for you, please email pamperingangelstraining@gmail.com and we will try to help.